| | |
| --- | --- |
| The Mini In Real Life | |
The Mini has affected the lives of many people. Here are just a few of them.
Mini Driving
Driving a Mini fast is a real art form. No other car comes close to it in roadholding - they just seem to stick to the road like glue. Learning to drive a Mini to its full potential requires quite a bit on unlearning of habits picked up in rear wheel drive cars. But once the skill is acquired, the Mini becomes a giant killer in capable hands.

Driving The Mini is an article written by John Aley, who was one of the early Mini racing drivers. In this article he tells how the art of driving a Mini fast was developed.
Mount Panorama at Bathurst, NSW, Australia, is home to one of the world's greatest touring car races. The Hardie Ferodo 500 is a 500 mile race run annually around a circuit built over Mount Panorama. In 1966 Minis dominated the race, taking the first three places outright. Up until recently they were the only non-Australian made cars to win. Lakis Mantucas, a successful Mini drive and tuner in the 1960's, talks us around a lap of Mount Panorama.
Long Distance Mini'ng
A Mini isn't the first car you would consider when planning a long distance trip. Just to prove its not such a silly idea, here are some owner's stories.
Miniac? Humour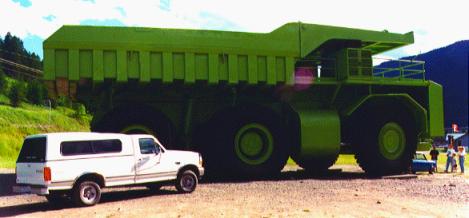 The biggest advantage of owning a Mini is that you can park them anywhere - even under great big trucks (look just under the front of the truck)
Wanted
Stories about you and your Mini for inclusion in this page. Topics can include restorations, racing, touring, (mis)adventures, meetings, anything. Stories don't have to be formatted and pictures are welcome. Send it to us for inclusion here.
by Dean Cording
| Main Menu |